By:
Tech Desk
| New Delhi |

Updated: January 26, 2018 8:29 am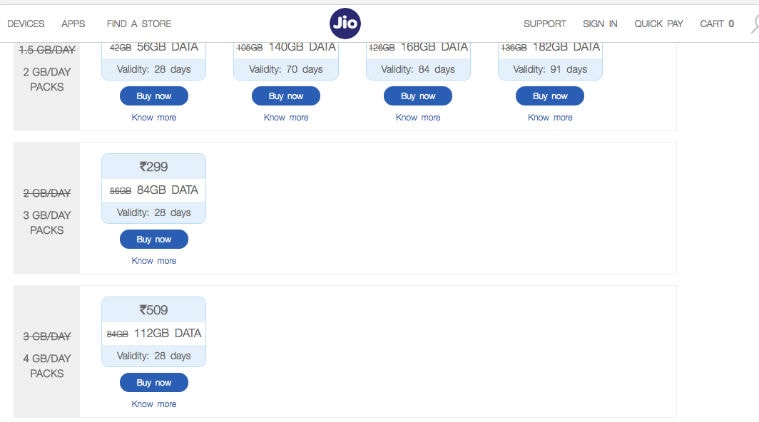 Reliance Jio Rs 209 and Rs 509 recharge plans will now offer 3GB and 4GB data per day to customers. Here are the details.
Reliance Jio has revamped two more plans as part of its Republic Day offers. Jio's Rs 299 and Rs 509 plan will now give more daily data for customers. The Jio Rs 299 plan which was currently offering 2GB of data per day, will now give customers 3GB of data per day. The validity of the plan remains at 28 days, which means the total data being offered is 84GB, which is much more than original 56GB on the plan. Reliance Jio's website has details showing the new plans and data offering.
Coming to the second recharge, the Jio has also revamped its Rs 509 plan with 28 days validity to give customers 4GB of data per day. This means the plan will now offer 112GB of data in total, up from the 84GB, that was offered before. The plan used to offer 3GB of data per day. With both plans, Jio will continue to offer unlimited voice calls, both on roaming and local and STD calls. It also includes complimentary subscription to Jio's suite of apps for one year. However, users still need to pay the Rs 99 Jio Prime fee in order to be eligible for these recharge offers. The plans also include free 100 SMS per day.
It should be noted that Jio's Rs 209 and Rs 509 recharge while offering 3GB and 4GB data per day come with only 28 days of validity. For users who want plans with longer validity, Jio has other offerings as well. The Rs 399 plan from Jio now has a validity of 84 days and comes with 1.5GB data per day. This mean the total data offered is 126GB in the Rs 399 prepaid recharge. There's also a Rs 398 recharge plan from Jio offering 2GB data per day, which is valid for 70 days. The total data in the Rs 398 prepaid recharge is now 140GB. The plan used to offer 1.5GB data per day earlier.
Jio's prepaid recharges also include unlimited voice calls, and free 100 SMS per day. But Jio is a 4G VoLTE only network and users will need a 4G VoLTE enabled smartphone for making calls from the network. Additionally Jio also has a Rs 149 and Rs 198 recharge plan with 1.5GB and 2GB data per day respectively.
Reliance Jio's Republic Day 2018 plans will go live starting January 26, which is today and users should be able to see the new data packs reflect on the site while getting a recharge. They can also get a recharge from the MyJio app itself. Reliance Jio's cheapest prepaid plan is priced at Rs 98 and it offers a total of 2GB data for 28 days.
For all the latest Technology News, download Indian Express App
© IE Online Media Services Pvt Ltd